Clive Richardson Limited completed the design and construction of the pitch at the Irish Football Association's National Football Stadium at Windsor Park, Belfast in late 2014.  The pitch was designed and built as a "suspended water table" profile, proven worldwide to be the best way to construct pitches in stadium scenarios.
The pitch design concept was as outlined in FIFA Football Stadiums 2011 version 5, and consisted of:
Sub-base with a network of drainage pipes
Undersoil heating system
Irrigation system
Gravel drainage layer
Lower sand rootzone layer
Upper sand rootzone layer incorporating fibre reinforcement
Surrounding synthetic turf area
The facility received an Award of Merit in the Sportsground Category at the prestigious 2016 ALCI Landscape Awards.
After operating the maintenance of the pitch themselves for the first two years after construction, the IFA took the decision to appoint a suitably qualified company to undertake the maintenance of the pitch, initially along with the nearby Midgley Park Training Pitch.  A one year maintenance contract was awarded to Clive Richardson Limited in mid-2016, with the option of two additional years.  Clive Richardson Limited immediately undertook the entire maintenance of the stadium pitch along with the nearby training pitch, with dedicated staff members based full time at the National Football Stadium.
The following elements were included in the specification for the maintenance of the pitch at the National Football Stadium:
All pitch maintenance including cutting and pitch markings
Cutting and marking only of Midgely Park training pitch
Preparation of the pitch for all matches and team training sessions
Divoting and post-match repairs
Supply of pitch staff to agreed levels for all events including domestic/international football and any other events requiring use of the pitch.
Pitch renovations
Supply of all equipment and chemicals/treatments for the pitch.
The upkeep and management of the 3G surround to the pitch.
Consultancy for external non-footballing events wishing to use the pitch to protect the playing surface.
Clive Richardson Limited carries out maintenance works to the stadium pitch, ensuring that the surface is maintained in a top condition all year round.  A bespoke maintenance programme, based around the pitch usage requirements of IFA National Teams, Linfield FC and IFA domestic competitions, has been developed and is implemented on a daily basis by CRL.  Peak usage times like international matches mean that Clive Richardson Limited have to make additional staffing resources available to the facility, to ensure that the pitch quality is maintained to FIFA quality standards.  The pitch is independently tested periodically to ensure that it is maintained to stringent FIFA requirements.
CRL's work at the stadium was recognised at the prestigious 2017 ALCI Landscape Awards when the company were named winner of the Commercial Maintenance Category.
Further recognition of the standard of work by CRL was given by UFEA Representatives in the Bid Evaluation Report for the rights to host the 2020 Super Cup when they included a positive review of the stadium pitch.  Sadly however the bid was unsuccessful.
Case Study Award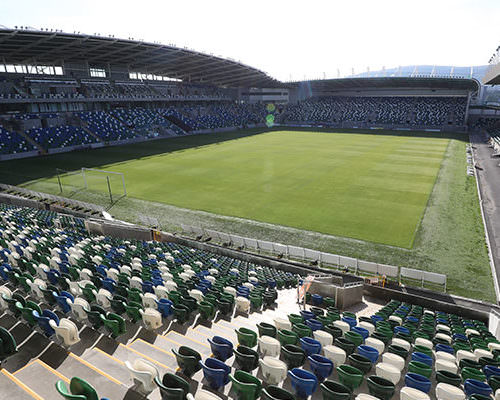 Awards Name: 2017 ALCI Landscape Awards
Category: Commercial Maintenance
Award Level: Winner
Project: Maintenance of The National Football Stadium
View Case Study
Testimonial & Related Services
Enquire About Our Services