Over the course of one year Clive Richardson Limited undertook substantial improvement works to Fairyhouse Racecourse.  These works included the construction of a canter down gallop, the widening of the bend on the inner track, installation and upgrading of track drainage, realignment of bend between 2nd and 3rd furlong, re-establishing ambulance road between 2nd and 3rd furlong, and modifications of boundary at 11th furlong.
Works were carried out by CRL in two distinct phases carried out at times to suit the extensive schedule of the racecourse.  These works included:
Phase One – canter down surface and inner track works
Strip surface from existing gallop area and stockpile at a designated area on site.  Material excavated using 13T Digger and 9T Dumpers.
Set out and agree line of new gallop.  Strip existing topsoil and stockpile.  Excavate sub-soil to the required depth and dispose on site.
Excavate for and install new drain in centre of the track, to required falls and connect to an existing outlet.  Pip trench backfilled with clean drainage stone by tractor and stone-cart, to sub-soil level.
Supply and place imported clean graded stone to base of track.  Material to be tipped in an agreed stockpile location and transported by a 9T Dumper or tractor and trailer to the required location.  Similar material to be spread along the line of the existing track.
Geotextile layer will be laid on the stone surface and extended beyond the track to overlap the existing ground.  Topsoil will then be placed on the track perimeter to facilitate the formation of new banks and to hold the topsoil in place.  The perimeter areas to be cultivated and sown out.
An approved sand will then be imported and spread to the required depth.  Sand will be placed in layers, firmed during building-up and graded to required levels.
The reinforcing fibre will be imported in bales and passed through a 'chopping' process.  It will then be spread in a consistent layer over the sand surface and mixed with the upper 100mm layer using a buryavator.  The surface will then be regraded and firmed.
Phase Two – 2nd, 3rd and 11th furlong works and ambulance road
Strip tarmac from existing road and dispose on site
Excavate stone base and place into existing drain line
Excavate soil from line of new road and stockpile
Excavate sub-soil and place into old road
Strip topsoil from prepared area on site
Haul and fill into line of old road and drain
Grade the whole area
Install new lateral drains
Install new sand slits
Spread previously stripped sand
Supply and spread additional sand
Supply and place stone base to ambulance road
Supply and place hra surface to road
Cultivate, rake and seed out
Install drainage and sand slits to other areas of the site
Install new drainage pipes at 11th furlong
Cultivate existing soil and supplement with additional site soil if required
Erect new fence
Seed out extension area
Plant new hedge line
Operations had to be carried out in a controlled manner as horses were using various parts of the track on a daily basis and this obviously meant constraints around the use of machinery and limitations on the delivery of goods to site.  Periodically during the works ground had to be reinstated to allow meetings to take place.  CRL carefully planned and coordinated all works in conjunction with the client and course management to ensure that the operational delivery of the project went without hitch.
The standard of the work carried out by CRL was recognised in the 2018/19 ALCI Landscaping Awards where the project was given an Award of Merit in the Sportsgrounds category.
Key Features
Racecourse

Canter Down Surface

Drainage
Case Study Award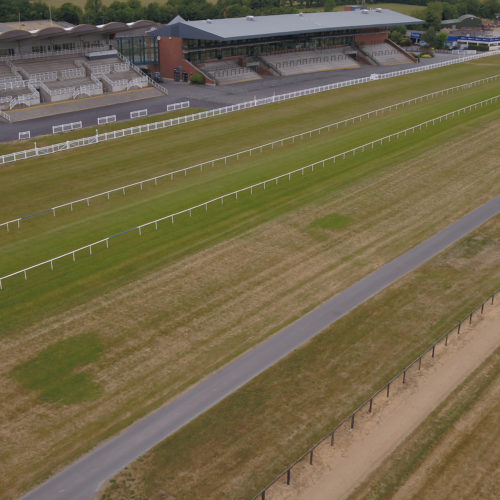 Awards Name: 2018/19 ALCI Landscape Awards
Category: Sportsgrounds
Award Level: Award of Merit
Project: Fairyhouse Racecourse
View Case Study
Testimonial & Related Services
Enquire About Our Services