CRL carried out the reconstruction of the Croke Park Stadium Pitch surface in July 2009.  The reason for these works was to provide a new surface which could be easily adapted to allow various concerts and events to take place within the stadium going forward.
A significant redesign was undertaken and a new fibresand base construction with 40mm turf on top of it agreed as the most suitable way forward.
The operational works were carried out in two distinct phases.  The initial phase saw the removal and disposal of 200mm depth of existing rootzone to an approved facility.  This was followed by the supply and placing of the new sand based rootzone containing fibresand reinforcement.  The pitch area was then prepared to allow U2 concerts to take place.
After a break from Sunday 19 July 2009 to Monday 27 July 2009 inclusive to allow a series of concerts by U2 to take place, works recommenced on Tuesday 28 July 2009.  During this final phase of the works, the new base was re-graded to levels and cultivated in preparation for the installation of turf.  Specialist sportsground Turf, imported from England in refrigerated lorries, was then laid onto the pitch surface and managed until it was full knitted and brought to a state of readiness for play by Friday 31 July 2009.
Four GAA All-Ireland Quarter-Final matches were played on the stadium pitch over the following weekend.
The project was the largest ever mobilisation in respect of a sportsground construction on the island of Ireland and ensured that the project was delivered in record time and to the highest quality. The works necessitated approximately 800 lorry movements to be coordinated in a very restricted and controlled environment around the stadium.  CRL worked in coordination with Dublin City Council and the Garda to ensure that the operational delivery of the project ran smoothly.
Key Features
Specialist Rootzone Mixes

Fibresand

Turfing
Case Study Award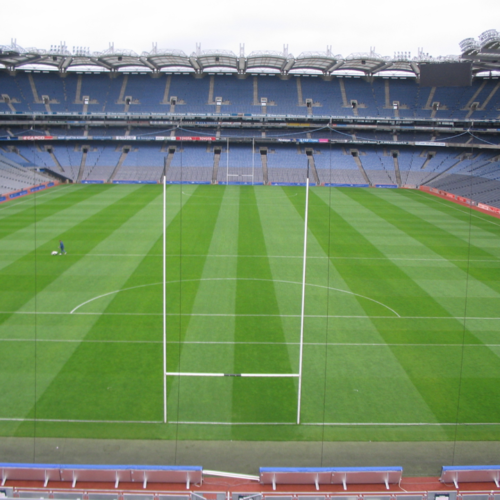 Awards Name: 2010 ALCI Landscape Awards
Category: Sportsgrounds
Award Level: Winner
Project: Croke Park Stadium, Dublin
View Case Study
Testimonial & Related Services
Testimonial & Related Services
Enquire About Our Services