Clive Richardson Limited undertook the reconstruction of the pitch at the iconic Craven Cottage Stadium in London.  The stadium is home to Fulham Football Club who play in the English Football League Championship at present.
The project involved the complete removal of the existing pitch and the construction of a new pitch with stitched hybrid reinforcement.  The project was delivered within an extremely tight 12 week window between the football seasons.
The works undertaken by CRL included the removal of the existing fibre reinforced upper rootzone layer, undersoil heating pipes, irrigation pipework, goal sockets and the synthetic pitch surround.  During the construction of the new pitch our work included the installation of bases for football and rugby posts, a new irrigation system including tanks and pumps, installation of new heating pipes lowe within the pitch profile, importation of upper rootzone layer, surface preparation, seeding/establishment of new grass cover, a synthetic turf outer margin and introduction of stitched hybrid reinforcement.
The project also faced a number of constraints during the operational delivery with the on-site start date moved at late notice due to the Club's involvement in the End of Season Promotion Play-off's; constraints around the working hours due to the stadium being located within a heavily urbanised residential area; limited access to the site; and, having to share the site with a number of other unrelated contractors carrying out stadium improvements at the same time.
The project was delivered on time, under-budget and to the highest specification, meeting all of the relevant FIFA and FA requirements prior to the start of the 2017/18 season.
The standard of the construction was recognised by the Association of Landscape Contractors in Ireland at their 2018/19 Awards where the project won the Sportsgrounds category and was given a special award for Design and Build Excellence.
Key Features
Stitched Hybrid Reinforcement

Irrigation

Under-Pitch Heating
Case Study Award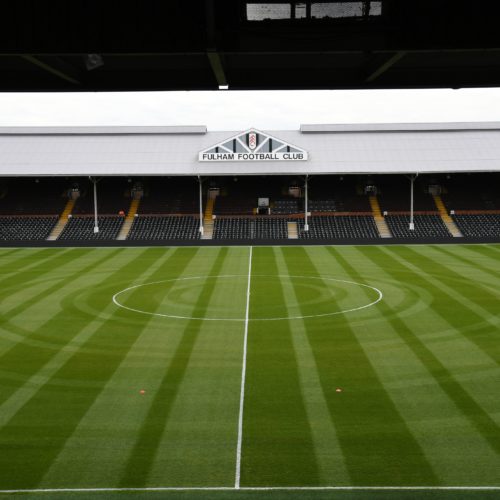 Awards Name: 2018/19 ALCI Landscape Awards
Category: Sportsgrounds
Award Level: Winner
Project: Fulham Football Club Craven Cottage
View Case Study
Awards Name: 2018/19 ALCI Landscape Awards
Category: Special Award Design & Build
Award Level: Winner
Project: Fulham Football Club Craven Cottage
View Case Study
Testimonial & Related Services
Testimonial & Related Services
Testimonial & Related Services
Testimonial & Related Services
Enquire About Our Services